Dawn Blagrove, Executive Director
Dawn Blagrove is an attorney and a proud graduate of Florida Agricultural and Mechanical University (FAMU) and North Carolina Central School of Law. She obtained her Bachelor of Science degree in political science with a minor in Secondary Education, cum laude from FAMU, where she also obtained a Master's Degree, magna cum laude, in Applied Social Science. While in law school, Blagrove worked at Williams Mullen Law Firm, formerly Maupin Taylor, Wake County Public Defender's Office, and North Carolina Prisoner Legal Services.
After graduating law school, Blagrove worked for eight years as a post-conviction staff attorney with North Carolina Prisoner Legal Services, where she co-managed the jail credit team of five paralegals dedicated to jail credit issues. During this time, Blagrove evaluated and prioritized requests for criminal post-conviction representation from inmates incarcerated in North Carolina's Department of Correction. On their behalf, she litigated motions for appropriate relief and petitions for writs of habeas corpus in N.C. trial and appellate courts. Blagrove also litigated federal habeas actions in U.S. District Courts in N.C.; the Fourth Circuit Court of Appeals in Richmond, VA.; and the Supreme Court of the United States.
Today, Blagrove's experience as a post-conviction attorney, combined with her undergraduate training in Secondary Education, fuel her passion for educating youth and the public about challenges in the criminal justice system as Executive Director of the Carolina Justice Policy Center.
Blagrove also serves as an adjunct professor for the Criminal Justice Department of Fayetteville Technical Community College. She has taught courses that include Interviews and Interrogations and Introduction to Criminal Justice. She is also a proud co-sponsor of the Capital City Chapter of Jack and Jill of America.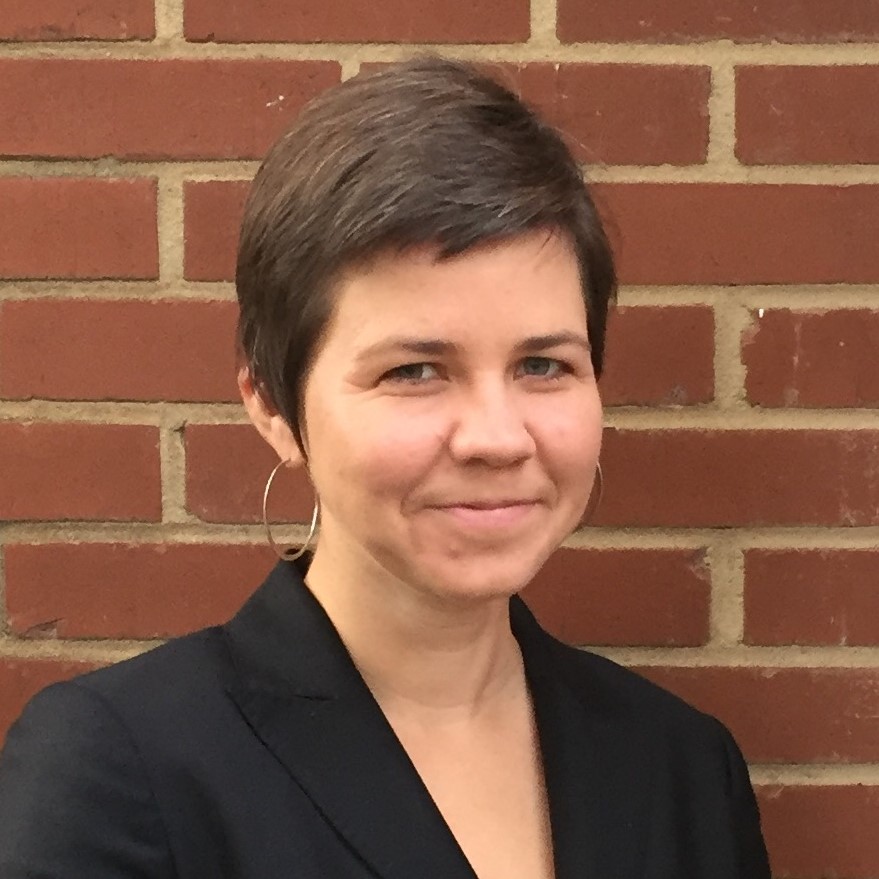 Elizabeth Simpson, Associate Director
Elizabeth Simpson is an attorney and graduate of the University of Virginia and Yale Law School. She obtained her Bachelor of Arts degree in Political and Social Thought from U.Va. in 2003. She graduated from Yale Law School in 2009, winning the C. LaRue Munson Prize for excellence in the preparation and presentation of legal cases in a clinical program.
After graduating law school, Simpson clerked for the Honorable Denny Chin on the U.S. District Court for the Southern District of New York and the U.S. Court of Appeals for the Second Circuit. She moved to Durham, North Carolina in 2010 after being awarded the Arthur Liman Public Interest Fellowship to do immigration work at the Southern Coalition for Social Justice. She worked in the model of community lawyering, working with community organizers to support litigation with media and pressure tactics. Subsequently, she worked as a civil rights attorney with North Carolina Prisoner Legal Services, where she litigated in in defense of prisoners' rights to safe and humane conditions of confinement, winning injunctions and monetary relief for her clients. She appeared in four federal jury trials, represented prisoners in dozens of successful mediations, and argued before the U.S. Court of Appeals for the Fourth Circuit. Most recently, she worked at the National Immigration Project of the National Lawyers Guild, defending and supporting immigrant activists in a variety of forums. She has served as an adjunct professor in the UNC Law School Civil Clinic.
Before, during, and after law school, Simpson has supported grassroots community organizing with her skills in fundraising and backend logistics. She is connected to the Durham Solidarity Center's Freedom Fighter Bail Fund, which supported the activists who took down the Confederate monument in Durham, North Carolina in 2017. She was arrested in the Moral Monday protests in 2015, and subsequently represented her fellow arrestees in state criminal court on trespassing charges. She is Board Treasurer for the Southern Vision Alliance, a grassroots intermediary that supports leadership development and base-building work for social, racial, and environmental justice, along with gender equity, LGBTQ rights, and education justice in the U.S. South. She enjoys spending time outdoors with her husband and two children.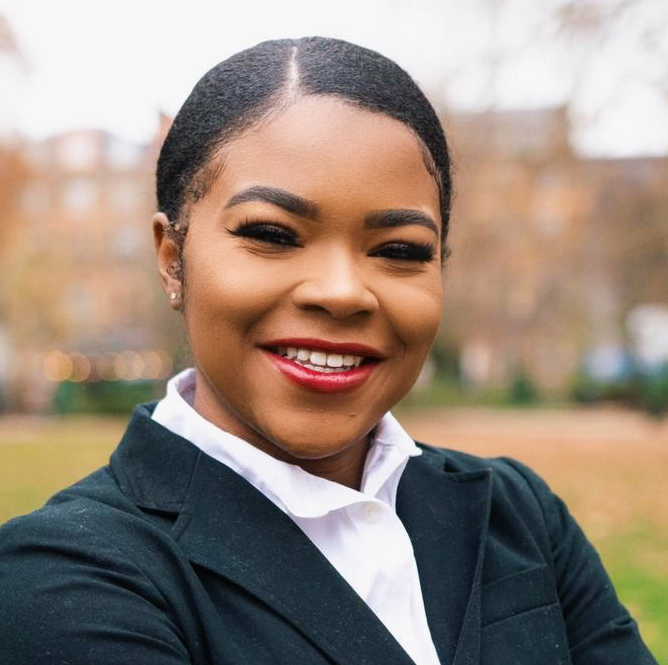 Savannah Baker, Justice Fellow
Savannah Baker is a junior at the University of North Carolina at Chapel Hill, majoring in Political Science and Philosophy with a minor in Social and Economic Justice. Baker is currently Co-Chair of Criminal Justice Awareness and Action, where she raises awareness about discrimination and injustice in the criminal justice system. Baker is also the President of B4 (Building Bonds Breaking B.A.R.S), an organization run out of Sonya Haynes Stone Center that raises awareness of the school to prison pipeline and provides volunteers at the Durham County Youth Home. Baker has previously worked at Reprieve in London advocating for the abolition of the death penalty internationally, as well as at Forward Justice in Durham.
Baker became interested in advocacy work through her school. She went to a predominantly black and Latinx high school in Eastern North Carolina and spent her senior year raising awareness about educational inequality. Through that experience, she learned about the connection between school and the criminal justice system, and it helped her to understand the disparities that she saw in her community.  Furthermore, after witnessing her friends and family's interactions with the criminal justice system, she knew that she wanted to become an advocate for marginalized communities.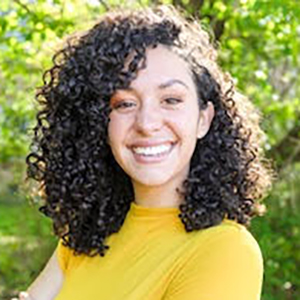 Mariah Warner, Justice Fellow
Mariah Warner is a junior at the University of North Carolina at Chapel Hill where she studies Public Policy and Sociology. Before college, Warner founded a youth-led organization called ACTION, A Call To Impact Our Nation. Together, they facilitated conversations between their community and local police agencies in hopes to strengthen relationships and prevent violence after the devastating deaths of Alton Sterling, Philando Castile and five Dallas police officers. While at UNC, she has organized UNC advocates with Hate-Free Schools Coalition to ban the Confederate flag in Orange County schools. Warner also served as the Communications Director for the Campus Y, organizing several protests to take down the Confederate monument on UNC's Campus.
In addition to her studies, Warner freelances as a professional photographer. Her work focuses on protests, minority groups, and translating social justice issues through her lens. Some of her pieces were published in Candis Watts Smith's book, Stay Woke: The Politics of the Contemporary Movement for Black Lives (A Handy Guide for Students of AntiRacism). Mariah is also a member of US Army National Guard as a Combat Engineer, and in 2017, was called to help her state during natural disasters and abroad for international affairs.
Today, Warner aims to help reform the criminal justice system because her family is personally affected by systematic racism. Warner's grandfather has served over 40 years in prison, and though he is a model inmate who completes every rehabilitation program, teaches several of the classes, is a big role model for other inmates, and served all of his years, her grandfather was denied parole for the past five years because of the "severity" of his crime. The severity of one's crime will never change, but the individual can and that's what our rehabilitation system is meant for. Similarly, her uncle was overcharged of a crime causing him to serve more time than he deserved and today cannot access the resources in the civilian world because of his criminal record. Both her grandfather and uncle could have had different outcomes, but because their race is Black, the system has failed them. Warner wants to fight these issues with race-based solutions so she can help other families like her own.